This Week In Jeep: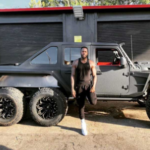 Another Six Figure Jeep – With WHAT?!?
I'm not a huge fan of baseball. (gasp) I know… I know…, I might as well have just insulted half of America. But if you are of the countless few who still love the sport, then you may undoubtedly be aware of The New York Yankees relief pitcher Aroldis Chapman. They call him a closer. Because he closes the game down with his 100mph fastballs, and is known as "The Cuban Missile" for being able to bring such a fast pitch. Clearly if you're on a team like the Yankees, and you've got a name with the word missile in it, then it's safe to say you're also getting a pretty fat paycheck.  And it became quite evident that Chapman IS getting paid quite well, as this week he took delivery of one of those 6 wheeled, six figure Jeeps from a company we've talked about recently here on the show. Just 10 Episodes ago in fact. In Episode 434 we Talked about South Florida Jeeps in Fort Lauderdale, who now apparently have created a one of a kind custom 6×6 Jeep for the baseball player. As stated on the Instagram post of the delivery from South Florida Jeeps, ((QUOTE)) "The man who regularly throws over a 100 mph now has a truck to match." And a truck this thing is, as each one of the SF6X6's are hand built to order with a baseline of 600 ft pounds of torque and a bunch of other quite impressive features to come with that impressive price tag. But this one has been custom outfitted with a unique Kevlar coating. Is it bullet proof? Radar Absorbing? Will it deflect a rocket strike? They won't say, and some of the specs of the beasts this shop builds are kept under tight wraps too. All in All the project took about 60 days to complete. What it cost Chapman was right around $150,000 — a small price to pay for a Jeeper who just signed a 3-year, $48 MILLION contract with the New York Yankees. Yea, how's about he kicks one our way?!?! …Since it was probably US who gave him the idea after hearing about it on the show in the first place! Hey YOU do the math. That was exactly 70 days ago, and it took 60 days to build, and he took delivery this week. Like Pee-Wee Herman used to say… "CONNECT THE DOTS LA-LA-LA"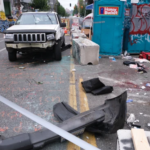 Teen shot dead in a Jeep in Seattle's CHOP (Capitol Hill Occupied Protest)
The teenagers shot in Seattle's Capitol Hill Organized Protest area earlier this week were being chased after stealing a Jeep at knifepoint. According to various reports from both eye witnesses as well as people who were close to the two young men who were shot, a slightly different story comes to light. Initially dispatchers received multiple 911 calls after gunfire erupted just after 3 a.m. near 12th Avenue and Pike Street, according to Seattle Police. Witnesses reported several unidentified people had fired shots into an SUV. Well on the surface that seems like the two young boys in the Jeep were tragic victims of senseless violence. But as the story unfolds, we find that apparently the two boys, one 16, and the other 14, had beat someone up, and stolen their Jeep at knife point. They were being chased at one point, and got advice from one of their friends to run to this CHOP zone where they would be safe and could hide out because there were no police up there. Once there there was some confusion since the six block area of anarchy was at that point being self policed. According to one witness a vehicle that had the word "Security" written on the side of it was one that had engaged the two boys as they recklessly drove into this area of high tension and lawlessness. To me it comes as little surprise, and it's going to piss a lot of people off when I say they got what they deserved. You beat someone up and steal their Jeep from them at knife point and then go carening into an area of sheer anarchy and expect there to be something other than bullets greeting you, then I'm afraid that falls under the you sleep in the bed you make category. Friends of the thieves insist they were not gang members, yet have already been identified and are known to regularly associate with known blood gang members. They thought that there was honor among thieves and that if they made it to an area with other people who are circumventing the law, that they would be safe. The moral of the story? Don't steal Jeeps!  
Tech Talk With Jeep Talk: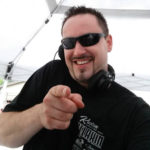 Tighten That Tire!
As summer creeps up on us we find ourselves hitting the trail a little more often, and that might mean you may be noticing some things that developed over the winter or from last year's trail runs that has you thinking you need to make repairs. All too often a new creak or rattle has us worrying more than we should. This is especially true for those of us Jeepers who have a spare tire carrier bumper.  Aftermarket bumpers are great but they all have their own quirks and flaws. In my mind no bumper is perfect, even the one that a buddy of mine is building that he will eventually have sunk over $2500 into. And I bet when it's finally done, he still won't be happy. Over time, trail use and just general driving loosen up tolerances that may have otherwise been tight at one point. This may introduce a little slop in something and present a new rattle or noise that is sometimes hard to isolate. Spare tire carrier bumpers are notorious for making noise, especially on the trail. From rattles to bangs and everything in between I know for a fact there are Jeepers out there right now wishing they could do something to quiet down their rear tire carrier.  One of the biggest sources of noise in these bumpers is from the tire itself. And the bigger the tire, the bigger the culprit. The sheer mass and size of that tire being suspended just inches above the main support of the bumper is exerting a lot of shear forces on its mount, which is oftentimes just a 10″ ring of steel with three lugs sticking out of it welding to a piece of tube steel. As you bounce down the trail all those forces are being transmitted through that mount and are turned into rattles in all those areas where tolerances may have opened up a bit. This is a tip that a friend of the show CPO turned me onto a number of years back. And that's to get that tire secured to the rear supports of the swing arm. Almost every rear tire carrier bumper I've seen has a vertical post for the spare tire mount itself, as well as at least one triangulated support that comes off the side, but usually two. And it's where this angled tube meets the face of the tire is where support needs to be maximized.  How this is done is by using anything from rubber exhaust hangers, to bump stops, to a section of an old tire or anything that can fill that void, and give you a mountable, securable and very rugged cushion to cinch the tire down to. This will create a much more positive engagement between the tire and the bumper making them much more of a single mass than several masses all vibrating and shaking differently. The key here is durability, but you will be limited to how much of a void you need to fill. A chunk of floor matt zip tied around the support might be all you need. Or it may be that you need a full size bump stop bolted to the face of that support because your tire sits so far out from it. Rattles aren't the end of the world, but they are a sign of something that still needs to be addressed.
Newbie Nuggets: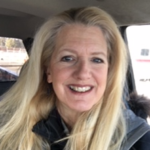 At some point you may run into a situation that requires a Band-Aid and maybe even a little first aid on the trail. In episode 426 I discussed several items to have in the jeep including a first aid kit. The question has come up, what's kind of a first aid kit do I need? Great question and thanks for suggesting as we explore some options. Most first aid kits available might be the blue metal box that says "first aid with a big red cross" or the white plastic box that says First Aid and they contain basic essential items that are generally enough to handle those silly scrapes and bumps you can acquire while jeeping. Here is a list of items that should be in the basic kit. 1)  Band-Aids – all sizes (small to large & wide) 2)  Dressing gauze with tape 3)  Flexible gauze (ace bandage) 4)  Antiseptic wipes 5)  First aid cream/Neosporin 6)  Alcohol swabs 7)  Some kits may have a triangular bandage and a cold pack Now you may ask yourself, why would I need all this first aid stuff? Well, when you jeep, things tend to happen and it's always best to be prepared. My husband always says, "Better to be looking at it, than looking for it". Or as I always say, "if I have it, I won't need it". Needing a bandage is NOT the time to wish you had put a kit together. We were jeeping last weekend on John Bull with Don Alexander and helping some students get through the obstacles. The rocks are huge and the dirt is like powder and very slippery. I know this and mentioned and reminded the drivers to be careful when stepping/walking around before we tackled the obstacles. Well as I was spotting a driver through the obstacle, I needed to adjust my position and I hopped (yes I said hopped) to the next rock and as my left foot landed it went down and "swoosh" I'm on the ground. Landed hard on my left hip and elbow/forearm on a slanted rock covered in fine dirt. I know better, but why I hopped and didn't step as I moved is beyond me. As I hit the ground I realized that the driver was still waiting for me to help and I sprang up like a gazelle (it was more like "I meant to do that") and continued like nothing had happened. Turns out I scraped my forearm pretty good. No blood and I didn't hit my head so we continued on and I got everyone else through the obstacle. A little bit later I realized I had a pretty good scrape and it was stinging. I used the first aid cream and a Band-Aid to help the pain and put my big girl britches on and dealt with it. I probably didn't really need the Band-Aid but having it was good because you never know when something like this could have been worse. So what other types of first aid kits are out there? Basic kits are easy to find and generally require very little to figure out how to use the items. There is always a basic first aid booklet in these kits, so it's a good idea to preview it before going on a trial run. But what about other types of kits and items. There is every level of kit (and expense) from Trauma kits to full blown medic kits. Depending on your experience and/or training you may want to bring additional items in your kit. Bill and I are first aid, CPR, trauma trained and certified, so we carry extra kits on board.   A few other items to consider: SunBurn cream, it's not just for sunburns, you could get a burn reaching under your hood and touching the hot engine or exhaust. An Israeli pressure bandage would be good to have for a puncture or head wound or even a deep cut on a leg/arm (learn to use it properly).  A wound like this could easily happen by wrenching under the jeep and the tool slips, or you fall on a jagged rock and hit your head or worse. Whatever you choose for your first aid kit, make sure you know what's inside and how to use it, especially, if you are the trail leader. There are classes offered for all levels of first aid and trauma training. You need to know how to help if needed. And don't forget to check the kit for missing items just to make sure kids and family members haven't raided the kit because they needed a Band-Aid.  Josh, and Tony, what's a must have for your first aid kit?
Interview with: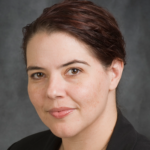 Dr. Pamela L. Gay – Donated Her "beloved" 1997 Jeep Wrangler To NPR after 21 years of fun and adventures! Dr Pamela Gay is an astronomer and host of the Daily Space podcast. She is also someone who owned a Jeep Wrangler SE "manual" for 21 years. In that time she has done many jeep things both scientific (like lugging telescopes) and stupid (like transporting a love seat roped in between the roll bars). She just donated her beloved Jeep to NPR and remains in mourning.
Must Have Stuff: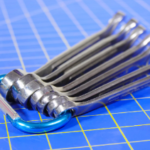 Carabiners For Wrench Control / Storage
I used to work with tools for a living. And keeping my tools clean and organized was a key part of my routine. This has transferred to the tools I carry offroad too. And although not everyone can have a dedicated set of tools just for the Jeep or for offroading, this tip will help anyone organize a specific set of tools in their collection. Having access to the right tool for a trail repair or last minute adjustment of something makes all the difference in the world. So why carry a full set of wrenches with you if it's going to take you forever to find the right one? To this end I have used a simple Carabiner to keep each of my wrench sets complete and organized.  Long gone are the days of searching endlessly through a tool box or bag to find one single wrench. I know right where my wrenches are and the one I'm looking for will always be easy to find. My quick tip for you would be to keep it simple stupid. Seriously. You can go out and spend as much as $40 on a pair of these spring clips and get them home only to find they don't fit but a third of your wrenches. Oh sure they will be titanium coated and have an integrated bottle opener and bluetooth link to feed real time tool data to the cloud for better storage optimization, as if that's even a thing. Honestly the cheap anodized NON-locking aluminum clips that you can get several of for less than 10 bucks works the best. And here's why.The ones you want to look for will have a round body and clip that sets flush with the body. Not some big chunky twist or sliding locking mechanism. That's just going to get in the way. Just a simple spring loaded lock tab of the same diameter as the rest of the carabiner. This will allow for easy cycling through the wrenches to find the right one, but will also facilitate easy removal and replacement of the needed wrench. Not to mention it's nice having a different anodization to tell which set is metric at a glance. The bigger the Carabiner the bigger the diameter of the body, so you don't want anything over a 4″ clip because you won't be able to get your smaller wrenches over the body. Other than that it's up to you where you get them, how much you spend and how many you buy. I will say this though. Stay away from the Pittsburgh brand Wrench Rings. Although they look like they might be a better design, they are made of a soft steel and bend out of shape too easily. Think old school shower curtain rings, stretched. Yea, not a lot of beef there. 
Amazon $7.49 for (QTY 6) 3″ Multi Colored – https://amzn.to/3dVinQG
Amazon $11.99 for (QTY 12) 3″ Black – https://amzn.to/3dViZps
Harbor Freight $0.89 for (QTY 1) comes in various colors https://www.harborfreight.com/3-inch-snap-clip-fastener-47658.html
Campfire Side Chat:
Do You Have The Means To Fly a Flag (or two) On YOUR Jeep? What Flags Do You Fly, And When?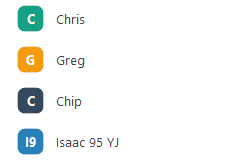 Wheeling Where
:
July 4th Jeep Rally WILL HAPPEN!
In the parking lot of Apache Field – Gonzales, Texas
6pm July 4th, 2020
Event coordinators encourage Jeeo owners to decorate their vehicles with Independence Day themed decorations, including but not limited to flags, streamers, window paint, lights, etc.The rally is intended to uplift Gonzales and its residents, and help give the town some life and hope to remain strong. Organized by Lisa Brown, who previously worked on the Light Up the Dark Christmas Light event.
Links Mentioned in this Episode: 
Jeep 4-1-1 https://www.youtube.com/user/backcountrydriver
Jeep Spare Tire Carrier Flag Carrier (Freedom Flyer) https://oldsoldierironworks.com/
Zippered Flag Holder For CB Antenna "Forever Wave" https://foreverwave.com/